Nutritional Strategies for Weight Gain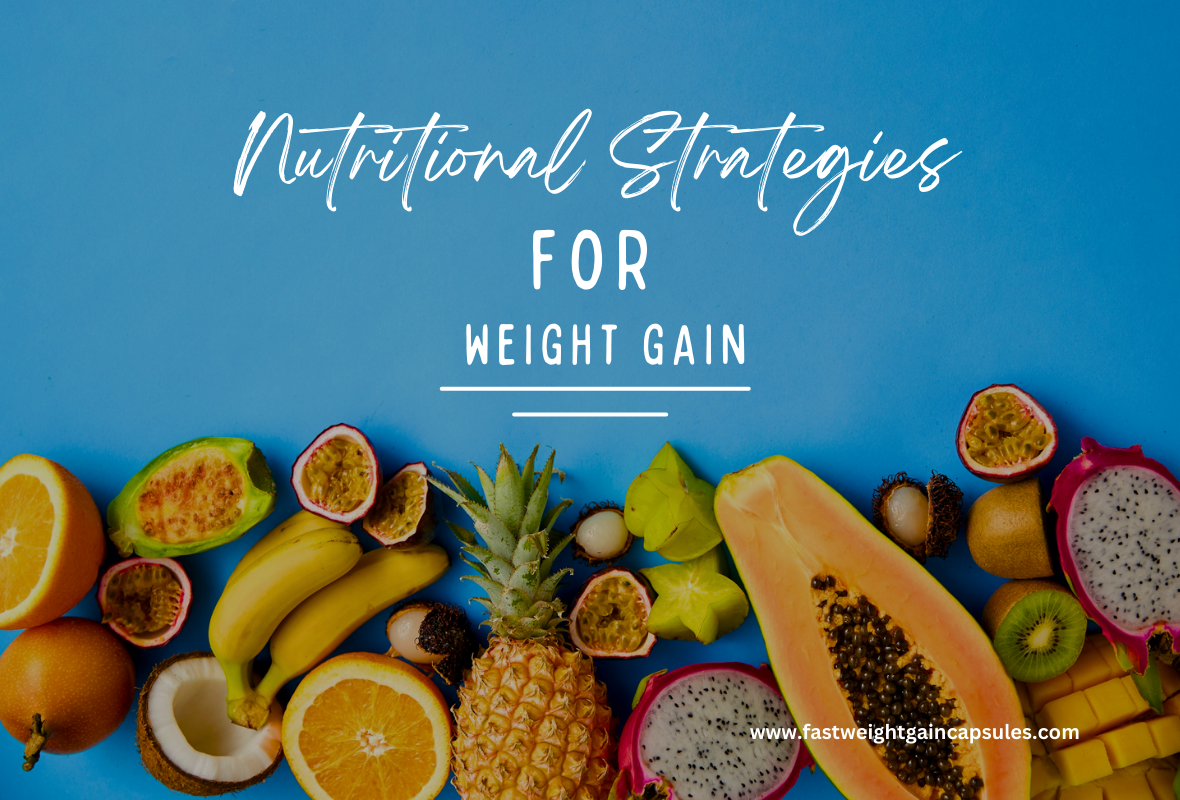 14 Mar, 2023
Nutritional Strategies for Weight Gain
Gaining weight in a healthy manner requires careful planning and the right nutritional strategies. This comprehensive guide will provide you with essential tips and advice to help you achieve your weight gain goals while ensuring you maintain good overall health.
Understand Your Caloric Needs
To gain weight, you need to consume more calories than your body burns. Begin by calculating your daily caloric requirements, taking into account your age, sex, height, weight, and activity level. Add 300-500 calories to this number to create a calorie surplus, which will help promote gradual, healthy weight gain.
Balance Your Macronutrients
Macronutrients - carbohydrates, proteins, and fats - play a crucial role in weight gain and overall health. Aim for a balanced macronutrient distribution to support healthy weight gain:
Carbohydrates: Carbs are your body's primary source of energy. Opt for complex carbs, such as whole grains, legumes, fruits, and vegetables, which are nutrient-dense and provide sustained energy. Aim for 45-65% of your daily caloric intake to come from carbohydrates.
Protein: Protein is essential for building and repairing muscle tissue, which is particularly important if you're engaging in resistance training to promote weight gain. Choose high-quality protein sources like lean meats, fish, poultry, dairy, eggs, legumes, and tofu. Aim for 15-25% of your daily caloric intake to come from protein.
Fat: Healthy fats are necessary for hormone production, nutrient absorption, and overall health. Incorporate sources of unsaturated fats, such as avocados, nuts, seeds, and olive oil, into your diet. Aim for 25-35% of your daily caloric intake to come from fat.
Prioritize Nutrient-Dense Foods
Focus on consuming nutrient-dense foods that provide essential vitamins, minerals, and antioxidants, in addition to calories. These foods will not only support healthy weight gain but also promote overall health and well-being. Some nutrient-dense options include:
Whole grains: Brown rice, quinoa, barley, whole wheat bread, and pasta
Fruits: Berries, bananas, apples, oranges, and grapes
Vegetables: Leafy greens, broccoli, carrots, sweet potatoes, and bell peppers
Nuts and seeds: Almonds, walnuts, chia seeds, and flaxseeds
Lean protein sources: Chicken, turkey, fish, tofu, and legumes
Dairy products: Greek yogurt, cottage cheese, and milk
Eat Regular, Balanced Meals
Consistently eating regular, balanced meals can help ensure you're meeting your increased caloric and nutrient needs for weight gain. Aim for three main meals per day, along with 2-3 snacks in between.
Breakfast: Start your day with a nutrient-rich breakfast that includes complex carbs, protein, and healthy fats. Examples include oatmeal with berries, nuts, and a dollop of Greek yogurt, or a veggie-packed omelet with whole-grain toast and avocado.
Lunch and Dinner: Build your main meals around a balance of carbohydrates, protein, and vegetables. Consider options like grilled chicken with brown rice and steamed vegetables, or a hearty salad with mixed greens, roasted sweet potatoes, and chickpeas.
Snacks: Choose calorie-dense, nutritious snacks to help you reach your daily caloric goals. Examples include nuts and dried fruit, yogurt and granola, or whole-grain crackers with hummus and sliced avocado.
Optimize Meal Timing
Eating at strategic times can help maximize your body's ability to gain weight and build muscle.